A Chinese Grammar Wiki would make a useful addition to Pleco... so I thought. Enclosed are my results in form of an E-C dictionary.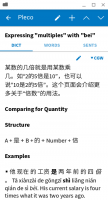 Difficulties:
- Usability is questionable. It is not really a E-C dictionary, most pages have long English titles.
- The wiki uses templates for info boxes and other presentation artefacts. There isn't the screen space on mobile phone to draw these. So they are all omitted.
- There are 100's of redirected pages. I have omitted these.
- Lots of other mediawiki "gunk" still exists in the output.
- Much formatting is lost when converting to Pleco's unicode-based markup language. (V4 of course will help address that