Hello everyone,
First let me say that I searched the forums and couldn't find any discussion on the topics that I raise here.
I've discovered the AnkiDroid integration feature recently and I really enjoy the swiftness of card creation that it allows. Nevertheless,
here are a few issues in order of importance
:
1) Not possible to choose which dictionary is used upon card creation
When I press the plus symbol inside pleco it will always use the dictionary that's closest to the top. For me that's the pleco dictionary. While this is mostly fine, there are many times when other dictionaries give better information. There should be a button for card creation or an option in the settings that let's users choose which dictionary they want to use. Maybe even multiple. Of course I realise that there are some copyright restrictions.
What's funny about this problem is that when I use the screen reader function of pleco and create a card, the card's information will be based on the dictionary that I have currently enabled, and as it is easy to switch between dictionaries while using the screen reader, the feature that's missing inside the pleco app is working in the screen reader extension.
2) Cannot edit newly created cards from screen reader
The button on the bottom left is just not there. I'm assuming there are some technical reasons for this.
3) Not possible to disable pinyin for example sentences
Just that. It's possible to disable pinyin inside pleco itself, so this feature really should be easy to implement.
4) Not possible to disable translation for example sentences
Not a big deal, but sometimes figuring out the meaning of an example sentence without any translation is just what you want on a good flashcard.
5) Not possible to disable all formating exept line breaks
I appreciate that pleco gives me the option to copy information as plaintext, but then there's no line breaks, so it's really not readable anymore; On the other hand, default layout especially for example sentences looks pretty, but it also takes up too much space.
6) No option for frozen fields
I often like to add a small note on top about how I came across the word on the flashcard on my "Annotation" field. This is where I f.i. put the name of the article I'm reading. When I'm adding cards inside pleco, I can edit the corresponding field manually for each new card that I create. When I'm using the screen reader function, though, it is not possible to edit the card right away (see point above). This means that I would have to switch to AnkiDroid, search for the word, and manually enter the information for each flashcard I create using the screen reader. Along with point 2), an option for frozen fields would really make card creation a lot quicker.
7) No option not to import part of speech
I guess this might be impossible to implement, I'm assuming the part of speech part of the dictionary entries don't have a specific ID. Nevertheless, this would help tidying up the flashcards.
8) Default tags seems to be buggy sometimes
In order to work around 2) and 6), before reading an article yesterday I added a tag that contains the information I want to put in my "Annotation" field as a "Default Tag". After some time, however, these default tags wouldn't disappear, even when I had already removed the tags from the "Available Tags" list. In the end, these faulty default tags appeared on any new card I created and in addition, I couldn't edit the cards from inside pleco anymore (pressing the plus symbol just gave me a message that the default tags where added to the note). At any rate, after restoring my settings to default status and toggling on "Show flashcard status [+] in lists", "Change on tap-hold" and "Always prompt" the problem disappeared.
8) Colours are imported according to current colour scheme
This became an issue when my light blue pleco colour scheme was used to create cards for my light blue Anki note types. I discovered that this is entirely dependent on the current colour scheme and during night mode, text like example sentences will always become blue on the flashcards. Changing my colour scheme to something that has enough contrast for Anki's day and night mode was easy enough, but there should still be an option for this.
I am attaching some images
to show what a pleco flashcard looks like for me (1) directly after importing it, (2) after removing all <p> tags, (3) after styling it completely to my likes. It might not look like a big deal on PC, but on my phone formating makes the difference of being able to three or five example sentences without scrolling, even more if I remove emtpy lines.
I would greatly appreciate support for any of the abovementioned issues.
Thanks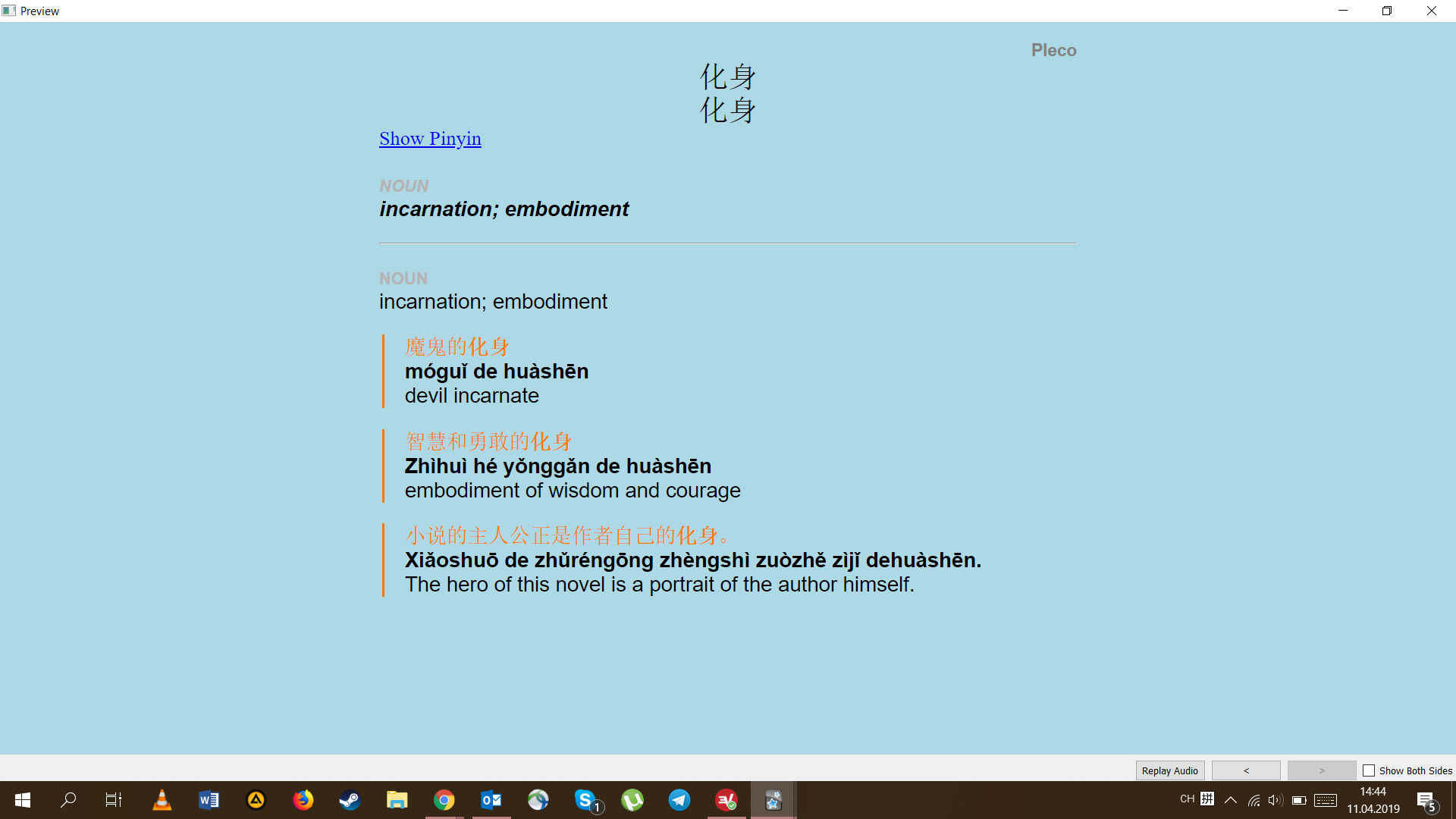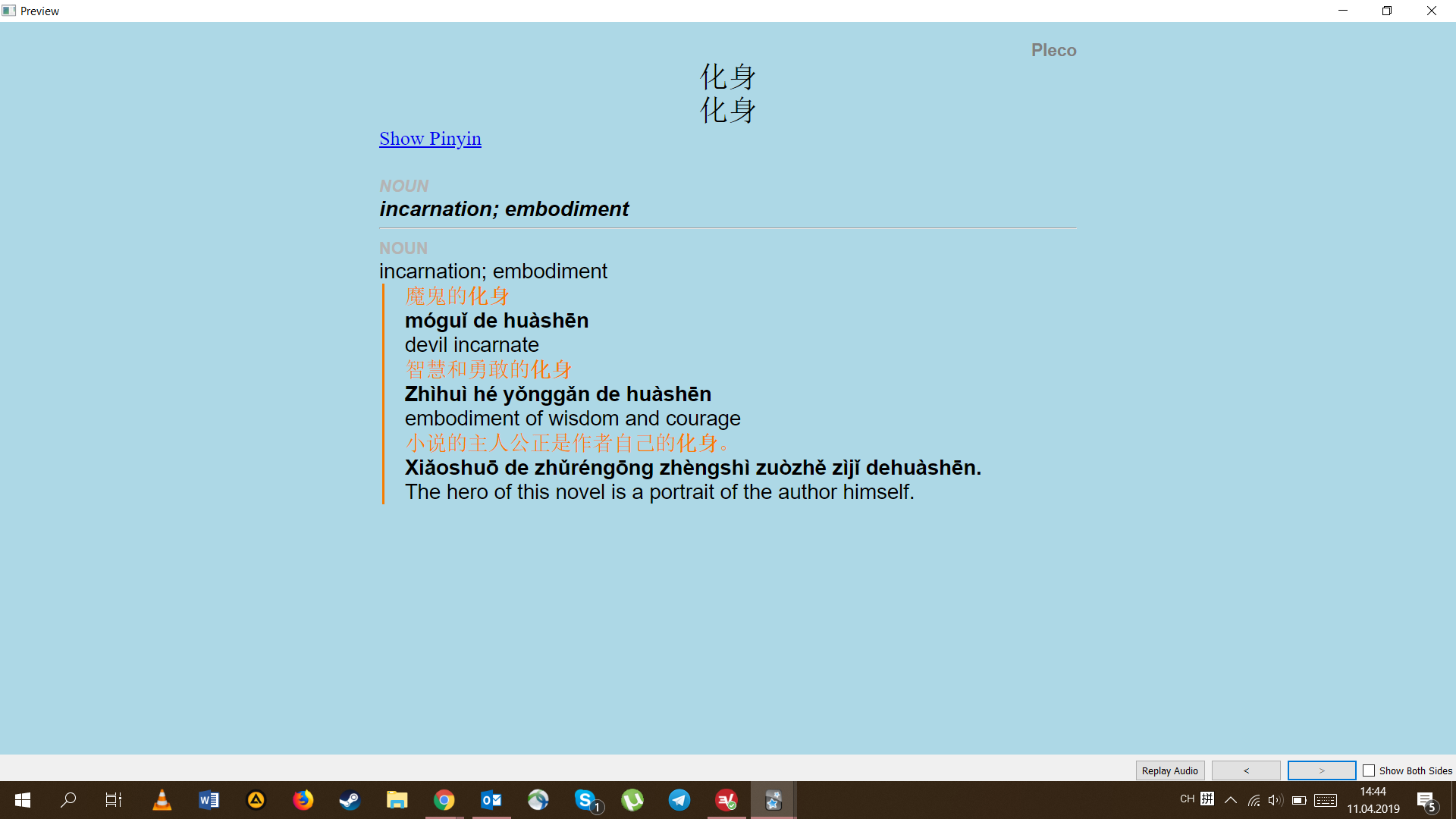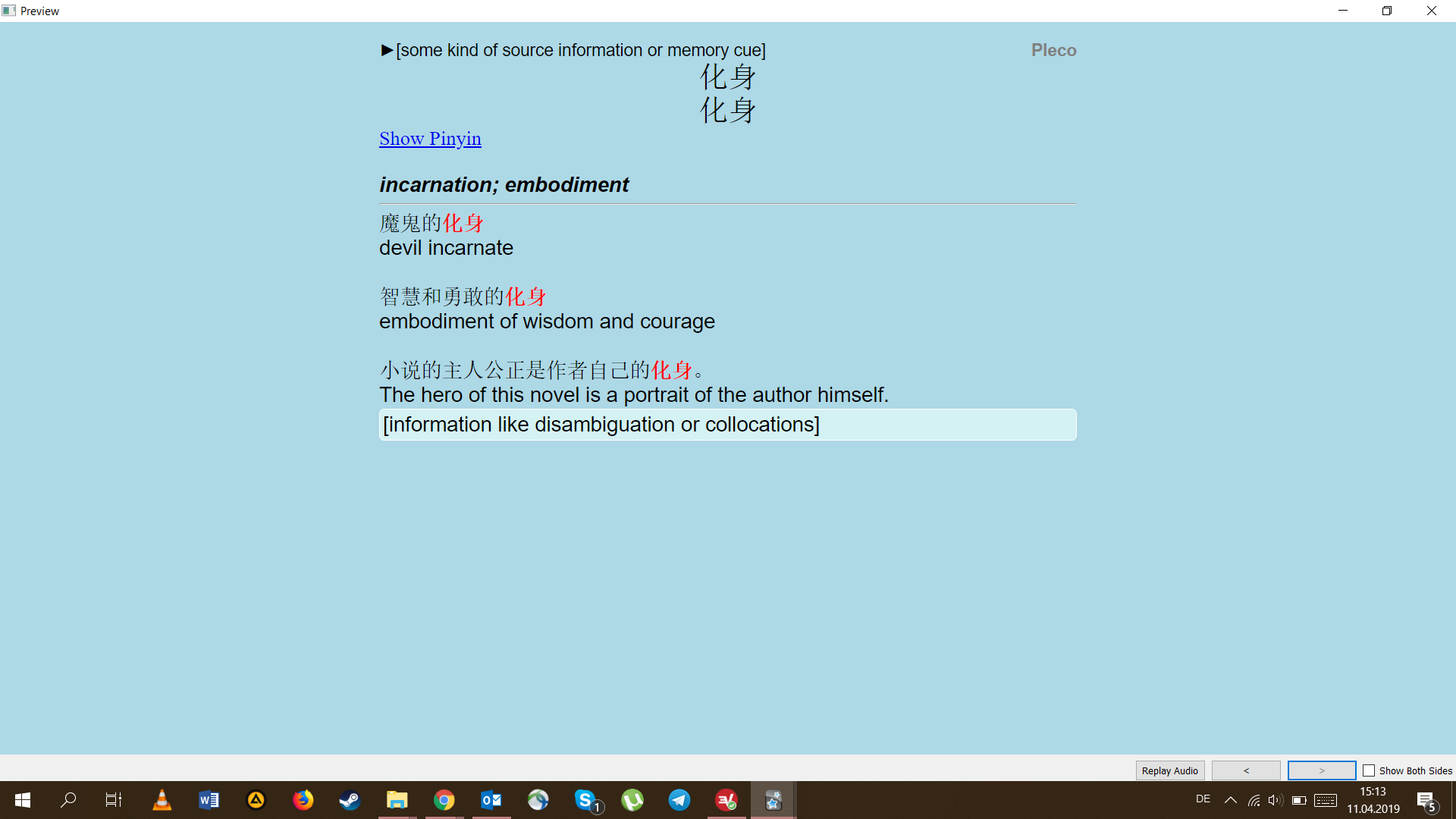 Last edited: